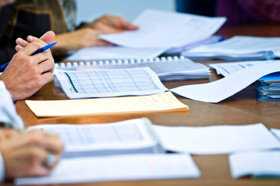 Let Southwest show you how easy and affordable it is to set up your own Southwest Presentation Station®, complete with everything you need to get started: Punching and binding equipment, supplies, presentation covers, plus laminating machines and supplies! We make it easy, with a turnkey setup, free telephone installation instructions, support and even a printed instruction booklet that comes permanently affixed to your punching/binding machine . . . so everyone in the office (veteran or newbie) can instantly put together great looking presentations!
How Southwest Helps Your Image Talk to one of our corporate specialists, who will walk you through a series of questions designed to help enhance and promote your brand and company image. We'll help you select not only a Southwest Presentation Station® that's right for your company, but also covers, overlays, special graphics, binding supplies and more – all chosen with your specific image in mind. Contact Us Today.
---
CASE STUDIES
Hospitals
Hospitals have many plastic and binding needs daily. In one instance a hospital purchased lamination film. The lamination film was used to laminate guide maps for hospital guests, so they would know the location of interests in the hospital.
Life Insurance Companies
Life Insurance Companies frequently use personal Velobind Strips which allow clients to take pages in and out of their policies with this type of binding, so they could update their policies without ripping out the pages and keeping all the necessary paperwork organized in one location.
National Organizations
Plastic coils are used to bind company policy manuals and internals documents that will be used frequently. This binding option results in durable and long lasting document packs/booklets.
Permanent Paper are used for outdoor music sheets that require frequent handling and can withstand the elements.