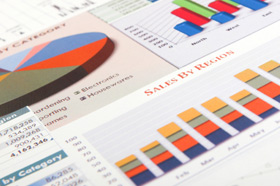 Although banks and financial institutions try to minimize printed materials, there are still lots of documents that routinely need binding or laminating. Southwest has the equipment and supplies financial institutions, banks, brokers, credit unions, insurance companies and mortgage companies need. For moderate to heavy use punch, bind and laminating equipment, you've come to the one place that can provide you exceptional resources, knowledgeable sales support with true industry experts, and rapid order fulfillment and same day shipping. We also offer card slitters, booklet makers and folders, with telephone installation support, and supplies matched perfectly for your output needs.
---
CASE STUDIES
Investment Companies
Wire binding is used for retirement and investment proposals for prospective clients. Wire binding is viewed as a sophisticated high-end type of binding preferred by banking and investment companies.