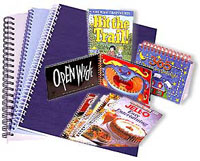 The Best Choice for Traditional Binding Applications
Wire binding is an excellent permanent binding choice that creates true lay-flat documents, opened or closed. Wire bindings are available in two styles: Double Loop and 19-Loop Wire.

Double Loop Wire
The premier choice in wire binding systems, is available in diameters ranging from
1/4" through 1" and requires equipment that punches either a round or square hole
pattern and crimps the wire closed.
To assist you in choosing the correct double loop wire diameter, check out our
Double Loop Wire Binding Guide below.
CHOOSE THE WIRE BINDING
THAT'S RIGHT FOR YOU
Style - Double Loop Wire
Length - Though an 11" binding edge is standard, we will provide any custom length. Just tell us your binding edge length.
Color - Black, White, Silver, Blue, Red.
DOUBLE LOOP WIRE BINDING GUIDE

Thickness of material
to be bound
(including covers)

Use Double Loop Wire

Approximate number
of sheets (based
on 20 lb. bond)

3:1 Pitch

1/4"

5/16"

60

5/16"

3/8"

75

3/8"

7/16"

90

7/16"

1/2"

105

1/2"

9/16"

120

2:1 Pitch

9/16"

5/8"

135

5/8"

3/4"

160

3/4"

7/8"

190

7/8"

1"

220

1-3/32""

1-1/4"

280