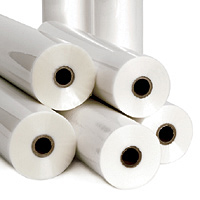 With the advent of digital copiers capable of producing "close-to-offset" quality product (Models-Xerox, DocuColor 240, 250, 260, 5000 and IGEN3 among others) it became necessary to design a new improved laminating film.
With the improved digital image quality, a high level of surface toner makes it difficult for traditional laminates (including low melt and digital imaging films) to consistently adhere to the substrate. If you find that traditional films no longer adhere to your prints then Extra Bond (EXB) Films could be the Solution! These materials are specially formulated to meet the challenge of emulsion aggregation (EA) toner copiers.
Most customers will print either 8-1/2" x 11" or 11" x 17". Unlike other lamination applications, customers are using 12" or 18" films instead of traditional 25" and 27" for regular laminating films.
Available 1.7 Mil Sizes:

12" x 500'
18" x 500'
25" x 500'

Available 3 Mil. Sizes:

12" x 250'
18" x 250'
25" x 500

Available 5 Mil. Sizes:

12" x 200'
18" x 200'
25" x 200'

Available Core Sizes:

Available Finishes:
Note: Other lengths and core sizes are available. Please contact us for special quotes on roll minimums, cost and lead times.