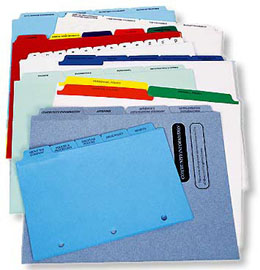 Organize Your Records or Presentations With Index Tabs!
Whether it is custom printed or high-speed copier tabs... We have what you need! Index Tabs are a must to assure organization in 3-ring binders, plus documents bound in comb, EZ Coil, and wire bindings. Most index tabs are custom produced to accommodate your specific needs.
Many copiers now have tab printing capabilities Our stock white tabs, 1/5 cut, and available in several collating patterns, accommodate these copier needs (i.e. Xerox 5090®, 5100®, Docutech®).
We can help you with full collated cases of tabs or fill-in orders or individual positions.
---
Choose The Right Tab For You
Custom Printed Tab Options
Tab and/or Body Printing
Paper Weight
Paper Texture
Paper Color
Mylar Protected Extensions
Mylar Protected Binding Edges
High Speed Copier Tab Options
Collating
Plain Tab Extension
Clear Mylar Extension
Assorted Colors Mylar Tab Extensions
3-Hole Punch