Our roll films are composed of a perfect blend of polyester and adhesive, which results in smooth, clear lamination. They are available in standard (homopolymer) and premium (co-polymer) grade films. Our premium (co-polymer) grade (low melt) film runs at a lower temperature and is therefore faster. It is often used for glossy, hard-to-laminate items because of its aggressive adhesion qualities.
---
Available Widths:


Available Lengths:


Available Thickness:


1.5 mil
1.7 mil
3 mil
5 mil
10 mil

Available Core Sizes:


Available Finishes:

*select core sizes and mil thickness | ** most popular
---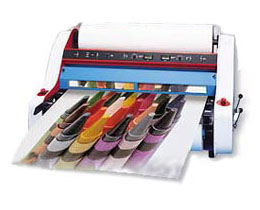 Wide Format Laminating Film
High performance, low temperature, UV protected, thermal laminating film engineered for wide format applications on both ink jet and electrostatic prints***.
Excellent resistance to delamination
Great reduction in print fade
Single and two-sided laminating
High clarity and excellent bond to heavy ink coverage
Usable temperature range of 185 degrees F to 245 degrees F
Available finishes: Clear, Satin, Matte
Available Widths: 25" to 60"

Available in all industry standard finishes, widths and thicknesses. Call for your specific needs.
***Due to the wide variety of inks and print media, compatibility testing should be performed prior to use.